When and how to file a claim
If something is damaged during the move, our advice is to stay calm. The team treats your belongings as carefully as if they were their own, and if anything goes wrong (which is extremely rare), it's an accident.
Try not to get upset at them; they'll already be feeling pretty bad about it! Let them finish the move, and then take stock with the team leader. Please remember that not every complaint constitutes a claim. If you're not happy with how our team handled the move and want to complain, please use the same filing process.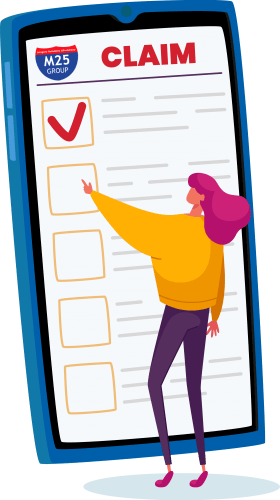 How long do I have to file a claim?
As soon as possible is the simple answer.
Once everything's unloaded, you will receive a delivery confirmation form to fill out. Please take a moment to complete it while our team is still there. This will help us ensure everything's in order and handle any future queries or concerns you might have; however, if you haven't noticed right there, notify us through our website or your portal; You have up to seven days after the service date to file it.
What can I not claim for?
We can't cover claims on jewellery, cash, or small valuables.
Got a contractor at your home during or post-move before noticing damage? Those claims won't be eligible.
Moving something over £500? Please let us know with this form.
Don't forget to sign the delivery confirmation when we finish up. It's crucial for any future claims.
Thanks for your understanding!
It's important to differentiate between a complaint and a claim, from 'I don't like the team leader's attitude', which is most definitely not helpful and stressful but still only constitutes a complaint, to 'my mirror is broken, which is a very justified claim.
How do I notify you of a claim or complaint?
The claim form is below; click, follow the process and submit your claim/complaint. We will start dealing with it immediately, and will update you each step of the way, and you can trust that we will follow a fair process. 
M25 Movers will thoroughly investigate your claim and get back to you within 14 days with a decision.
What happens if you're unhappy with the resolution?
We hope that you'll see that our response is fair. However if you are unhappy, we have an appeals process which we hope you never need to use. 
How do you calculate my claim amount?
Oh, that's easy; The formula is:
A = P *(1(+/n) +M25 )/nt=MULA = your compensation!
A = your compensation
P = the day you filed the claim
1 = number of broken items
+ = emotional distress you caused our adjuster
n = was it sunny on the day?
M25 = a bit blurry
nt = the value of 2nd hand super used replacement
M = your compensation
…just trying to put a smile on your face – that's all. We mean business and take issues related to our reputation very seriously.
As a matter of policy and law, we do not provide insurance for each item. M25 Group is not an insurance agent and has no licence to sell policies. However, the company is holding a policy for what we love to call, a 'catastrophic event'. You may wish to consider purchasing individual insurance for any high-risk items you ask us to move.
Can you recommend insurers for the move?
Of course you can, we work directly with Basil & fry which when you think about it sounds like the name of an Italian dish but really it's one of the best removal related insurance brokers in the market.
Go through the questions, answering them as best you can. It's not the end of the world if you miscalculate the number of items in the house; we always plan on extra. It's the nature of the business. Choose a package, submit, legs on the desk. Like a boss.